Campers love getting letters from their family! We encourage family and friends to communicate with their summer campers. However, it is important to note that frequent communication can result in homesickness and defeat the purpose of the adventure.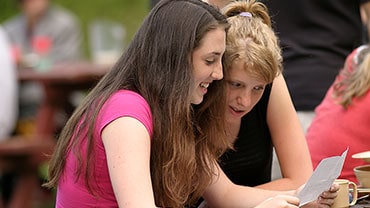 Letter Mail
Send letters to:
Camper Name, Session, Cabin Name
c/o Camp Kawartha
1010 Birchview Road
Douro-Dummer, Ontario KOL 2H0
Your camper will be encouraged to write to you. Please include pre-addressed envelopes and postage stamps in your child's packing.
Parcels
Please limit the parcels you send to those that contain necessities and birthday wishes. You may send items such as clothing, personal items, books, magazines, or small travel games. To protect those with severe life-threatening allergies (and keep critters out of the cabins), DON'T put any food, snacks, or candies in parcels or mail to your camper.
Visit our online Gift Store for items that can be delivered to your children at camp.
Email Letters
We print emails on regular business days (Mon-Fri), and cabin counselors distribute them to their campers along with any letter mail. Printed emails are viewed by staff in the course of their delivery, therefore messages should not include any sensitive or confidential information. Campers do not have access to the internet and therefore cannot respond by email. (Be sure to provide your child with pre-addressed envelopes and postage stamps in his or her packing so they can write you back.) Emails received within 24 hours of check-out may not be delivered in time.
While we do not currently charge a fee to send emails to your camper, there are costs involved in providing this service – printing costs (paper, toner, etc) and time spent by staff sorting all the emails for delivery. Please be environmentally friendly and keep costs down by limiting the frequency of emails, and refrain from sending 1-liners which wastes paper.
If you experence any technical issues using the form below, please notify Karen in the admin office.
Faxes
Do not send fax messages to your camper. Our fax machine is for business purposes only.
Phone Calls
Phone calls can cause even the most independent camper to feel homesick, and are disruptive to the daily routine. Campers are not allowed to call home or receive telephone calls while at camp.
If you have any concerns, you may contact the camp for a status report. Please be certain that we will contact you if there is an emergency or concern regarding your camper.